Jak poinformować o ciąży? 10 najlepszych pomysłów
Chwila, gdy kobieta dowiaduje się, że będzie mamą jest zapadającym w pamięć przeżyciem. Przyszłe mamy zwykle chcą ogłosić tę nowinę całemu światu w sposób wyjątkowy, dlatego poszukują kreatywnego pomysłu, jak poinformować o ciąży swoich bliskich. Jak powiedzieć o ciąży rodzinie czy znajomym, by zapamiętali ten moment na długo? Oto najbardziej kreatywne pomysły na informowanie o ciąży.
Reklama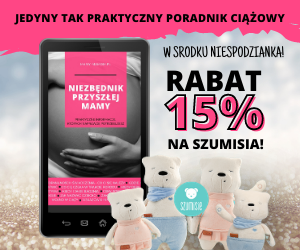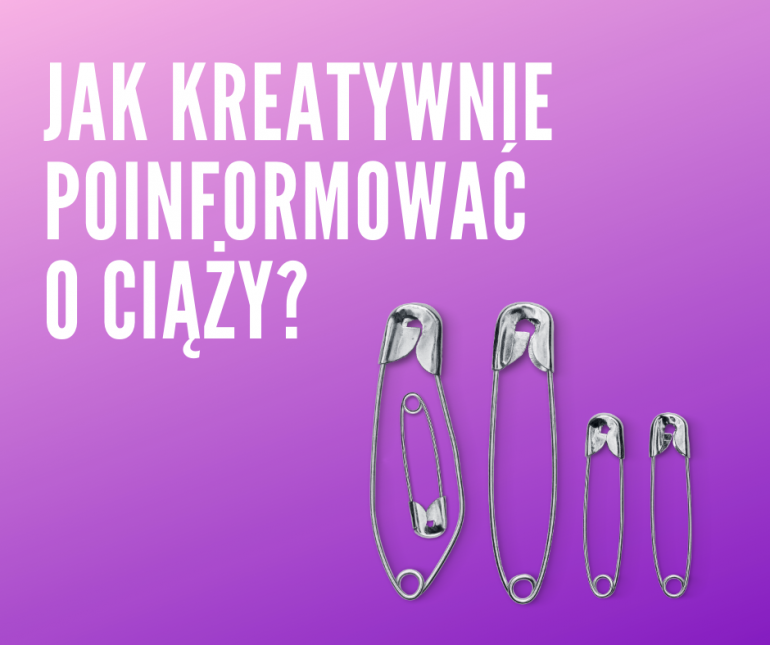 Reklama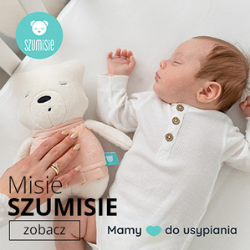 W czasach Internetu, gdy wszyscy funkcjonujemy w dwóch przeplatających się ze sobą rzeczywistościach, informowanie o ciąży zwykle następuje w sieci np. poprzez media społecznościowe. To najszybsza droga, by radosną nowinę ogłosić wszystkim znajomym, przyjaciołom i rodzinie. Sprawdź zatem, jak poinformować o ciąży w sieci. Zebraliśmy dla ciebie najbardziej kreatywne, ciekawe i zabawne sposoby na ogłoszenie radosnej nowiny w mediach społecznościowych.
#1 Gdy masz w domu zwierzaka
Pies czy kot jest częścią waszej rodziny, więc możecie wykorzystać fakt szykowania się na nowego członka rodziny z perspektywy zwierzaka. Pomysłowym zdjęciem będzie pies lub kot "zaczytany" w poradniku dotyczącym wychowania dziecka, zwierzak tulący się do dziecięcych bucików lub przyglądający się ze zdziwieniem zdjęciu USG. Do zdjęcia można dodać zabawny komentarz, dorobić dymki jak w komiksie.
#2 Wykorzystaj rekwizyty
Bardzo kreatywne zdjęcia informujące o spodziewaniu się dziecka, to takie, które nie głoszą tej nowiny wprost, jest na nich jakaś tajemnica i niedopowiedzenie. W sieci widzieliśmy np. zdjęcia przedstawiające trzy pary okularów – dwie dorosłych i jedne dziecięce, albo parę jadącą na tandemie, za którym jest ciągnięty mały dziecięcy rowerek. Fajnym pomysłem jest zdjęcie agrafek przedstawiające rodzinę – w środku jednej z dużych agrafek umieszczona jest malutka.
#3 Zgodnie z waszymi zainteresowaniami
Tatuś dziecka to zapalony kibic? Sfotografuj go z malutką koszulką ulubionej drużyny. Twoje dziecko – fan lego czeka na brata lub siostrę? Zrób zdjęcie waszej rodzinki zbudowanej z klocków i dołącz do niej malutki wózek dziecięcy. Uwielbiasz robić na drutach lub na szydełku? Niech ktoś pstryknie ci fotkę, jak tworzysz malutki sweterek lub skarpetki.
#4 Starszy brat lub siostra
Masz w domu pociechę, która cieszy się na myśl o rodzeństwie? Wykorzystaj to i uwiecznij tę radość na zdjęciu. Możesz zrobić dziecku koszulkę z napisem "starszy brat" lub "starsza siostra" albo sfotografować dziecko, jak przytula się do twojego brzuszka.
#5 Oryginalnie
Nie boisz się kontrowersji? Chcesz wywołać rozbawienie wśród obserwatorów? Postaw na oryginalny pomysł. Jak poinformować o ciąży niesztampowo? Możesz np. wyczekać moment, gdy twoje starsze dziecko rozpłacze się z jakiegoś powodu, położyć obok niego zdjęcie USG i szybko zrobić zdjęcie z zabawnym komentarzem. Możesz też dorysować coś śmiesznego na zdjęciu USG.
#6 Test ciążowy, USG
Zdjęcie testu ciążowego czy badanie USG to najpopularniejszy pomył na informowanie o ciąży, ale można też wykorzystać ten rekwizyt i zrobić zdjęcie nieco bardziej kreatywne np. z udziałem dzieci wyrażających minami zdziwienie czy też udającego nieprzytomnego tatusia ściskającego test w dłoni.
#7 Książki
Warto wykorzystać do zdjęcia książki z tytułem nawiązującym do sytuacji np. sfotografować się ze starszym dzieckiem podczas czytania książki "Będę starszym bratem" albo zrobić zdjęcie partnerowi zaczytanemu w poradniku dla ojców.
#8 Kreatywne napisy
Zamiast fotografować siebie, możesz zrobić zdjęcie napisowi oznajmiającemu oczekiwanie na dziecko np. datę planowanego porodu i imię malucha. Napis można zrobić patykiem na plaży, ułożyć na planszy Scrabble, napisać na zaparowanym lustrze, ułożyć z drewnianych klocków, namalować kredą na chodniku albo nawlec literki na sznurek naszyjnika itd.
#9 Sława
Jeśli jesteś odważna, możesz spróbować ogłosić nowinę przy pomocy jakiegoś celebryty. Spotkanie go w realu może być trudne, ale jak ci się uda – możesz poprosić zamiast o autograf, to o zdjęcie, na którym przytrzyma kartkę z napisem "(Twoje imię) jest w ciąży". Jeśli nie w realu, to może przez Internet uda ci się kogoś na taką fotkę namówić. Do odważnych świat należy!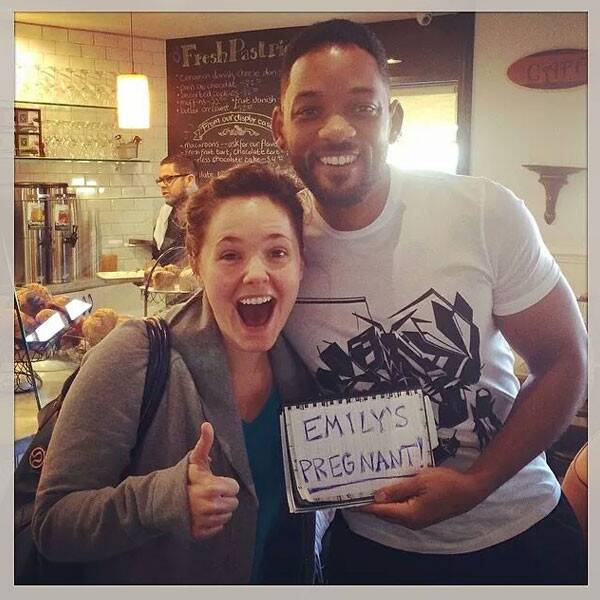 #10 Komiks lub filmik
Jeśli masz ambicję na coś większego, zamiast zdjęcia stwórz cały komiks lub nakręć filmik z krótką historią miłości i ciąży. Przygotuj fajny scenariusz, wykonaj kilka klatek zdjęć i połącz w całość, dodając do tego ciekawe napisy. Niech ogranicza cię tylko twoja wyobraźnia!